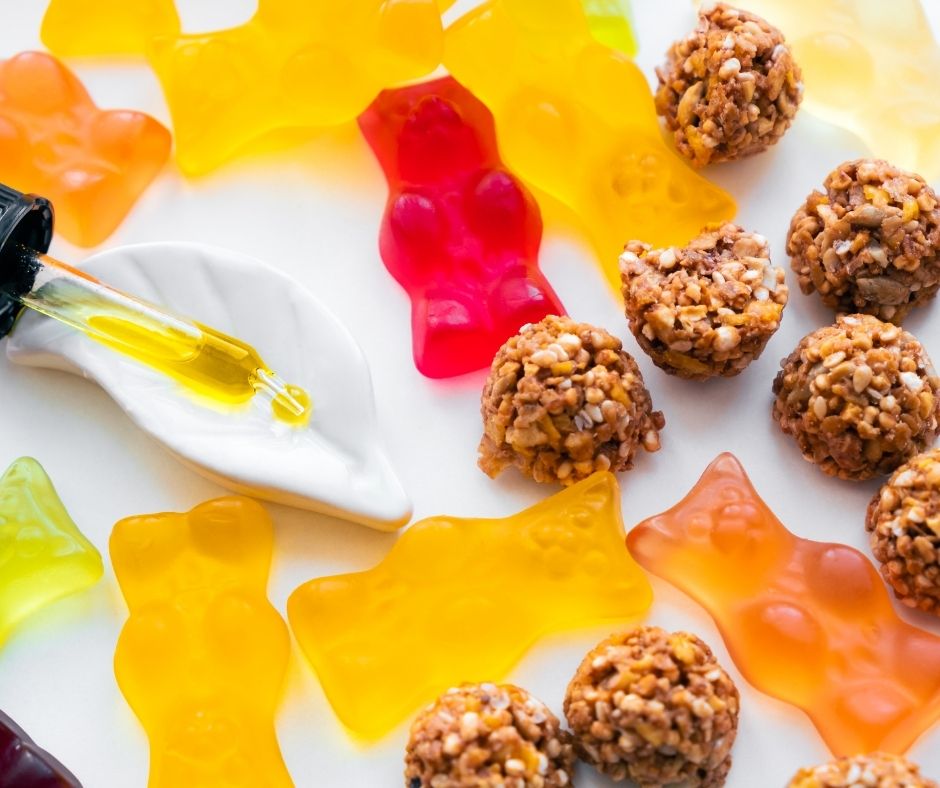 Bruce's CBD gummies are chewy candies with CBD infused into throughout each piece. Puts them a cut above gummies that are merely coated with CBD, as coatings can rub off.
We recommend Bruce's CBD Oils, pure hemp-based CBD extract, they provide a wide variety of uses for your body and immune system.
Support a sense of calm.
Manage signs of daily stress.
Enhance exercise recovery.
Complement everyday wellness routine.
All products tested to be THC-free.
CAN CBD Gummies HELP BOOST THE IMMUNE SYSTEM?
Research has demonstrated that cannabinoids, similar to cannabidiol, can interfere with cytokine release.
Cytokines are proteins involved in acute and chronic inflammation.
CBD may theoretically play an integral role in managing autoimmune diseases, such as rheumatoid arthritis, multiple sclerosis (M.S.), HIV/AIDS, and Parkinson's disease.
Autoimmune diseases are similar by an immune system overreacting to non-threatening internal events, leading it to attack healthy cells in the body.
Data from a review published in Cannabis and Cannabinoid Research in 2020 overwhelmingly support the concept that CBD is immunosuppressive (suppresses immune response).
Cannabis is immune-modulating, which means it can bring an over- or under-reacting immune system back into balance(6). However, the difference between CBD's "immune-modulating" and "immune-boosting" characteristics is still not well-understood.
More longitudinal studies are needed to fully comprehend the impact of CBD oil on the immune system. Before using CBD to boost immunity, consult with a doctor experienced in cannabis use.
CBD Gummies CAN REDUCE PAINFUL, INFLAMMATORY RESPONSES IN HUMANS
Additionally, some researchers have even speculated that the ECS may work to "notify" the body of an "incorrect" autoimmune response, wherein the defense cells attack otherwise healthy organs and tissues. May be why cannabinoids seem to function so well in treating autoimmune conditions like multiple sclerosis, systemic lupus erythematosus, rheumatoid arthritis, etc.
Bear in mind, however, that as of right now, all of this research is still speculative. Many more in-depth studies need to have a more thorough understanding of the exact molecular pathways at work.
We know cannabinoids such as CBD can reduce painful, inflammatory responses in humans. Particularly true among those who suffer from some of the aforementioned autoimmune conditions.
So, what does this mean? Well, when an individual suffers a severe traumatic event (i.e., has a severe head injury, stroke, etc.), the lack of oxygen and excess inflammation severely damages the nerve cells.
Experts believe that CBD may be able to protect nerve cells because of its efficacy as an antioxidant. Few people know that the U.S. government holds a patent on cannabinoids for this exact purpose.
CBD Gummies AND THE IMMUNE SYSTEM:
Have We Even Scratched the Surface?
Let's make one thing very clear: there is much about the functioning of the immune system and the body's immune response that is unknown. And there is even less known about the body's endocannabinoid system.
As such, no one – not even the world's leading medical cannabis experts – can yet outwardly claim that CBD has a "such-and-such" effect on the immune system. While it's clear (according to several studies) that cannabinoids have some influence on the overall immune response, it's unclear how we might manipulate it or administer treatments to achieve the most beneficial results possible.
One thing that is certainly worth researching more, however, is CBD's potential ability to "balance" the two major arms of the immune system.
Generally speaking, there are two different ways in which the body's adaptive immune cells can seek out and "eliminate" dangerous pathogens (foreign agents that can result in disease, infection, etc.):
Cell-mediated immunity. Involves T-cells seek out and destroy foreign antigens on their own by inducing apoptosis, or "programmed cell suicide," in the foreign antigen.
Humoral immunity. It occurs when the body's B-cells produce specific antibodies to seek out and destroy the dangerous pathogens.
In autoimmune diseases, one of these types of immunity becomes overactive and begins to attack and destroy healthy cells and tissues.
FINAL THOUGHTS ON CBD Gummies AND THE IMMUNE SYSTEM
Suppose you have been considering taking CBD for immune system health or an autoimmune condition that you already have, that there are dozens of high-quality CBD oils and tinctures available for sale online. Most companies can ship to all 50 U.S. states due to their manufacturing guidelines under the 2018 Farm Bill.
However, whenever possible, try and make it a point to speak with a physician or other clinical professional regarding the use of CBD oil for immune health. We have recently published an article relating to specific CBD dosing guidelines.
Still, we reiterate that we are not health professionals, and thus none of the information on this site should be interpreted as clinical advice.
And finally, make sure always to use CBD under your judgment. We make no outward claims or guarantees that it will be useful or therapeutic for you and your condition, regardless of data available in scientific studies.
*FDA Disclaimer: The statements made regarding these products have not been evaluated by the Food and Drug Administration. The efficacy of these products has not been confirmed by FDA-approved research. These products are not intended to diagnose, treat, cure or prevent any disease. All information presented here is not meant as a substitute for or alternative to information from healthcare practitioners. Please consult your healthcare professional about potential interactions or other possible complications before using any product. The Federal Food, Drug, and Cosmetic Act requires this notice.